Canadian Rockies 2016/2017

What's Included
Discover Vancouver, often voted the 'best place in the world to live'
Visit pretty Vancouver Island on an optional excursion
Journey from Vancouver to Whistler on the stunning Sea to Sky Highway
Explore the world-famous resort of Whistler
Look out for 'Grizzlies' in the Monashee Mountains
Enjoy a two-night stay in Jasper, 'Gem of the Canadian Rockies'
Journey down the Icefields Parkway from Jasper, via sparkling Lake Louise, to Banff, capital of the Rockies
Nine nights' room-only accommodation in a series of three-star hotels in Vancouver (3 nights), Whistler (1), Sun Peaks (1), Jasper (2) and Banff (2)
Return flights to Vancouver, returning from Calgary
Comfortable, air-conditioned coach travel and transfers
Fully escorted by a friendly, experienced Tour Manager
Join this wonderful escorted tour of Western Canada and discover the majestic natural beauty of this incredible part of the world. You'll enjoy visits to delightful Vancouver, 'British' Victoria and the famous resort of Whistler, and meet the famous 'grizzlies' on the highlight of your tour - an unforgettable guided river safari.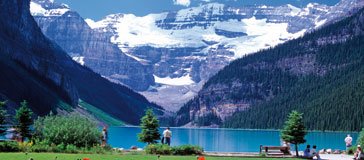 11 Day Itinerary
Day One
Fly direct to the great city of Vancouver. Enjoy a three-night stay on the edge of the Pacific Rim, overlooking the Georgia Strait and backed by the snow-capped Coast Mountains.
Day Two
Discover Vancouver on today's optional guided city tour - see restored Gastown, colourful Chinatown, and Burrard Inlet waterfront, then cross over the Lion's Gate Bridge into 'North Van'. Take a cable car to the summit of breathtaking Grouse Mountain, and brave the famous Capilano Suspension Bridge over a vertiginous gorge. Afterwards, explore at your leisure.
Day Three
Spend another day at leisure in Vancouver, or join today's optional excursion to beautiful Vancouver Island and the unashamedly 'British' provincial capital of British Columbia, charming Victoria. Explore the vast Parliament Buildings and grand Empress Hotel, and visit the world-famous Butchart Gardens, boasting over a million plants including several hundred floral species.
Day Four
Travel, through the coastal ranges and along the scenic Sea to Sky Highway, to the famous resort of Whistler, for a one-night stay. Enjoy the delights of this world-class winter sports and summer hiking resort.
Day Five
Today you'll head through beautiful scenery to Sun Peaks, a modern alpine village high in the BC interior.
Day Six
Continue north, today, past towering Mount Robson, the Rockies' highest peak, to Jasper, at the gateway to scenic Jasper National Park. Departures in June and September will also include a special 'Grizzly Bear Valley' river cruise, and the chance to see some of the region's wildlife in its natural habitat.
Day Seven
Spend today relaxing in Jasper, or join today's optional excursion, which will include a ride on the historic Jasper Tramway - Canada's longest - to the scenic heights above, and a journey to the stunning Maligne Lake, in its spectacular setting.
Day Eight
Today you'll travel along the renowned Icefields Parkway, calling briefly at beautiful Lake Louise, where turquoise waters - frozen for much of the year - are set against the awesome backdrop of Victoria Glacier. Afterwards, you'll continue to Banff and your next hotel.
Day Nine
Explore the delightful, bustling capital of the Rockies, and take the opportunity to join an optional Banff sightseeing tour, which includes a cable-car ride to the summit of Sulphur Mountain and a trip to scenic Surprise Corner viewpoint overlooking the famous Banff Springs Hotel. You'll also have the chance to take a helicopter flight across the Rockies.
Day 10
Today you'll transfer to Calgary Airport for your overnight flight back to the UK.
Day 11
Arrive back in the UK.
Dates & Prices
| | | |
| --- | --- | --- |
| Departure Airport | Date | Price From |
| London Gatwick | 12 May 2016 |  £1299.00 |
| | 16 Jun 2016 |  £1499.00 |
| | 08 Sep 2016 |  £1649.00 |
| | 22 Sep 2016 |  £1599.00 |
| | 29 Sep 2016 |  £1429.00 |
| | 06 Oct 2016 |  £1299.00 |
| | 13 Oct 2016 |  £1299.00 |
| | 27 Apr 2017 |  £1249.00 |
| | 11 May 2017 |  £1349.00 |
| | 18 May 2017 |  £1349.00 |
| | 08 Jun 2017 |  £1549.00 |
| | 15 Jun 2017 |  £1549.00 |
| | 07 Sep 2017 |  £1699.00 |
| | 21 Sep 2017 |  £1649.00 |
| | 28 Sep 2017 |  £1479.00 |
| | 05 Oct 2017 |  £1349.00 |
| | 12 Oct 2017 |  £1349.00 |
| London Heathrow | 26 Apr 2016 |  £1199.00 |
Accommodation
The hotels used on our tours will meet the standard of a good, three-star European hotel. Rooms will have private bathrooms, telephones and TV. The vast majority will also have tea- and coffee-making facilities. There will always be a bar or restaurant on site or nearby.
Further Information
Hotel transfer times
The transfer time from the airport to your hotel is approximately 30 minutes.
Passports and visas
British citizens require machine-readable passports when travelling to Canada. Visas are not normally required for entry, but for travel from 15th March 2016 visitors to Canada must apply for an eTA online with Canadian Immigration at least 72 hours before departure at www.cic.gc.ca/english/visit/eta.asp . The current charge is seven Canadian dollars for British Citizens. British subjects, and anyone who has a criminal record or has ever been arrested, should consult the Canadian Embassy as a visa may be required.
Grizzly Bears excursion
This excursion on Day Six will include an hour-long guided cruise into Grizzly Bear Valley, and will be available on all departures in June and September 2016.
May-October 2016 departures
For these departures, outbound flights to Vancouver are via Calgary.
26 April 2016
This departure will now fly from London Heathrow with Air Canada, instead of flying from London Gatwick on Air Transat.
Tipping
Gratuities are a way of life in North America, and it is generally accepted that they form part of a person's earnings. Customary gratuity to a coach driver or tour manager is about $5 per person per day; in a taxi or a restaurant leave 12-15 per cent of the bill and, in the bar, leave a dollar or so per drink.
Smoking
Smoking is not permitted on any coach forming part of your holiday; regular stops will be made though for your comfort en route. The majority of hotels in North America are non-smoking throughout including in all bedrooms. In general smoking outside is acceptable, but do look out for signs prohibiting this close to public entrances or bus stops.
On your flight
All outbound flights depart and arrive on the same day. All return flights leave in the evening and land in the UK the next day. On-board meals will usually include lunch and a snack on outward flights, and dinner and breakfast on flights home. Soft drinks are complimentary, but some airlines will charge for alcoholic drinks.
Luggage allowance
You are permitted to take one suitcase per person on the aircraft, which should not exceed 23kg.
Helicopter flights
Sightseeing flights by helicopter are weight controlled and balanced. Please contact us if you wish to book a helicopter flight and your bodyweight exceeds 250lb. (In such cases, a seat may have to be left empty, and some companies may charge a premium.)
Special requirements
If you have notified us of any special requirements, please check that they have been noted and acknowledged. This is especially important with any dietary needs you may have.
Disabled access
The majority of our tours involve a certain amount of walking, including a short walk from the coach stop to the town, attraction or venue you're visiting. If you are bringing a wheelchair, please let us know at the time of booking so that appropriate arrangements can be made.
Itinerary changes
Occasionally, for operational reasons, we may have to change the order of the excursions on your holiday. The final day-by-day itinerary will be confirmed on your Final Travel Documents, which you will receive approximately three weeks prior to your departure.
Changes to your hotels
Should circumstances require, we reserve the right to accommodate you in alternative hotels, of a similar standard, nearby. Full details of your hotels will be sent with your Final Travel Documents.
Hotel rooms
Standard hotel rooms in North America will contain one or two double- or queen-sized beds, and it is not possible to add extra beds to the room. Parties consisting of more than two travellers, but who have only booked one room, will be expected to make use of the two beds provided. If this is a concern, you may wish to consider booking more than one room for your group.
REF:NM

RESERVATION ENQUIRIES
Please fill out the form below and we will get back to you as soon as possible.